Italian architect Franco Raggi will discuss with Francesca Molteni about the influences of the Italian Radical Design movement on modern design, with a focus on the Design of the 70s and 80s.
The Italian Radical Design movement began in the 1960s in response to the tumultuous political and social climate: Young designers rejected aesthetic norms and, in the process, created unique art and architecture. On the surface, the movement's playful and symbolic imagery simply referenced pop culture but these works subversively took aim at the establishment. The Radicals introduced striking and bold colours; Instead of the integrity of material properties, they embraced ornamentation and decoration.
As Franco Raggi wrote (in his "Radical Story" – Casaballa, 1973), the radical movement tried to "overcome the disciplinary discourse of design, namely the reconstruction of the contradictions at the formal level, destroying… the normal image of the product." The function of the Radicals' works was to subvert the way you thought about the object. These pieces were meant to "stand out" for their bizarrity and to be looked at and enjoyed. The Radical designs, with their irony and distorted scale deeply influenced the imaginary of every-day-use-objects, but also magazines, books, exhibitions, schools and much more!
Seductive, captivating and utterly surreal, the Radical Italian movement despite its brevity still continues to be a major source of inspiration.
Wednesday, February 28 – 7:30pm – 8:30pm
Design Exchange | 234 Bay St.,Toronto | Free admission |
Presented by Design Exchange in collaboration with Istituto Italiano di Cultura; Consulate General of Italy, Muse; R & Company, NYC.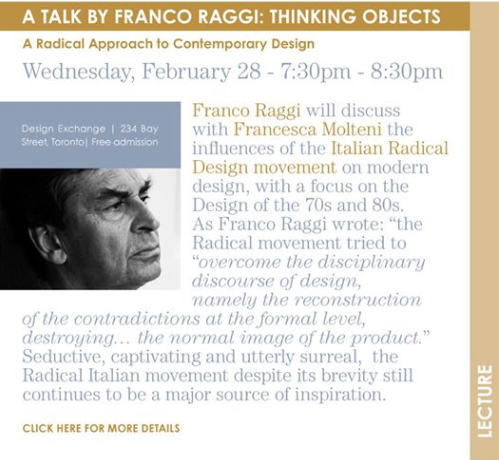 Related posts